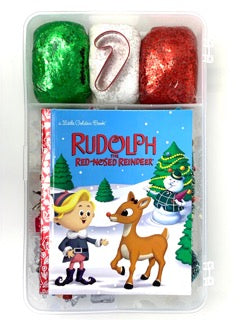 Rudolph Play Dough Sensory Kit
busybebesatx
I've been following @mamapapabubba's gorgeous Instagram feed and looking at the various commercial play dough sensory kits that have popped up and finally decided to make my own. It was fun, easy, and totally nostalgic (once I chanced upon figurines from the 1964 Christmas classic we watched EVERY year as kids)! Read on for details and shopping links so your kiddo can play in all the reindeer games too!

What You Need:
10 Stems from Iridescent White Tinsel Wreath (My Little Christmas, Hobby Lobby)
3 Each Red, Silver, & Gold Mini Foil Wrapped Presents in 2 Sizes (My Little Christmas, Hobby Lobby)
2 Mini Candy Canes (My Little Christmas, Hobby Lobby)
Christmas Glitter Pack (Note: The large glitter shape does not stick well to dough initially. I've had better success with kneading it into the dough and then topping with fine glitter before wrapping.)
U.S. Supply Gel Colors or Natural Skin-Safe Food Coloring (will need to use more of each color)
Play Dough Recipe (I made 1 recipe per color. Use 1/2 and wrap the other 1/2 for replacement dough.)
Plastic Wrap
Mini Rolling Pin (not pictured)
*Amounts are approximate. Use as much/as little as you'd like!
busy bébés is not affiliated with any of the companies linked or mentioned in this post. We do not earn any money for product purchases or advertisement. All opinions are our own.