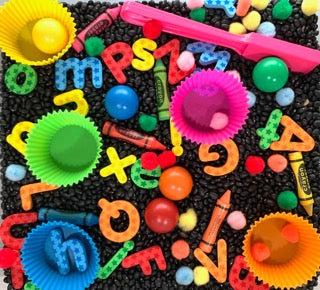 Back to School Sensory Bin
busybebesatx
School is in full swing! You survived Meet the Teacher, Back to School Night, and the first day of school. Create your own Back to School sensory bin so your littlest can join in on the fun - whether he hops the yellow bus or not!

Based in primary and secondary colors, this bin introduces school classics through the attractive science of magnetism.


Back to School Magnetic Sensory Bin:
You can add to your little's learning with a few extra items:


Alphabet Letter Matching Materials:
Directions:
Write all the letters of the alphabet on the cookie sheet. Have your child match each letter she removes from the bin to the written letters on the cookie sheet.
Older child? Have her try to make words as she pulls random letters from the bin. You could also write words on the cookie sheet for her to practice spelling as she pulls letters from the bin. Most magnetic letter sets come with multiple vowels (and the set we linked comes with several sets of the full alphabet).
Note: Don't throw away that cookie sheet if you use a Sharpie! Remove it easily with nail polish remover. Be sure to clean your cookie sheet thoroughly in hot soapy water before baking again.



Magnetic Science Materials:
Magnetic wand
Basket of household magnetic and non-magnetic items
Handful of magnetic letters
Directions:
Allow child to freely explore basket, and encourage him to sort items into 2 piles: magnetic and non-magnetic items.
Talk about how the items in each pile are similar. What is it about the magnetic pile that makes those items "attracted" to the wand?
Give child a handful of letters and have him test his theory by attempting to stick them to various surfaces around the house ( refrigerator, printer, cabinet, window, door, etc.).
Was his theory correct? Does he need to change anything about it?
Tried it? Love it? Let us know! Tag @busybebesatx with #
b2ssensorybin

. 

Disclaimer: busy bébés is not affiliated with any of the companies linked or mentioned in this post. We do not earn any money for product purchases or advertisement. All opinions are our own.