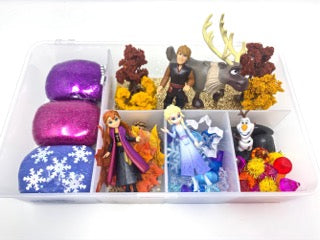 Frozen 2 Play Dough Sensory Kit
busybebesatx
What, your kid isn't FROZEN 2-obsessed?! I have nothing more to say. Except, HELP! It's FROZEN all day, every day at our house. I created this play dough kit for a little relief through independent play.
S loves acting out her favorite stories and assigning anyone and everyone a role and lines to play. I love that using the FROZEN 2 action figures incorporates storytelling into her sensory and imaginative play. In addition to the characters, I tried to include as many elements of the story as possible for her to recreate. I won't spoil it for those of you who haven't seen it yet, but spirits of the 4 elements (Wind, Fire, Water, and Earth) play a big role. I did my best to incorporate each of these in a variety of textures for S to explore as she constructs her story.
What You Need:
Wind
Water (and Ice for Elsa, of course!)
Optional:
Fire & Earth
Play Dough
*Amounts are approximate.Use as much/as little as you'd like!
busy bébés is not affiliated with any of the companies linked or mentioned in this post. We do not earn any money for product purchases or advertisement. All opinions are our own.