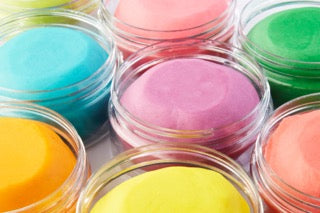 Our Best Ever Play Dough Recipe
busybebesatx
We tested every variation you can imagine in our kitchens during the pandemic, and here's the recipe that came out the winner.
Small Batch Ingredients:
1/2 c. all-purpose flour + 1tsp. or more all purpose flour
1.5 tsp. cream of tartar
2T table salt
2 tsp. liquid coconut oil
1 tsp. vegetable glycerin
1/2 c. hot water
Food coloring
Optional: 4-5 drops essential oil
Tools:
Stand Mixer
Small Pot
Measuring Cups
Measuring Spoons
Silicone Spatula
Jars to Store Play Dough (like these or reuse baby food jars, play dough jars, or beauty containers)
Directions:
Measure dry ingredients into the bowl of a stand mixer fitted with a silicone-edged paddle attachment. Turn it on the lowest speed.
Put water on stove, and turn on high. Bring to a rolling boil.
While water is coming to a boil, measure 1 tsp. glycerin, 1+ drops of food coloring, 2 tsp. liquid coconut oil, and 4-5 drops of essential oil (if using) into your liquid measuring cup. Whisk until combined.
Very carefully add boiling water to measuring cup, and whisk until all wet ingredients are well combined.
With the mixer still on the lowest speed, pour wet ingredients into the bowl.
Play dough should begin to look like frosting. Turn the mixer up to a medium to medium high speed and begin adding 1 tbsp. of flour as needed until the dough begins to pull away from the side of the bowl. Stop the mixer and check dough for stickiness. If it's sticking to your fingers, continue adding flour 1 tbsp. at a time. Recheck often until you've reached a soft, pliable texture.
Play immediately or store in a jar with a tight fitting lid.